---
NAME's Fiftieth Anniversary

Happy Anniversary NAME!
In 2022 NAME will be celebrating its 50th all year long!
So, get ready to celebrate! NAME will honor its "Mini Golden Memories" from the past and make more for the future.
In conjunction with it's 50th, NAME is planning to hold a series of special events to showcase its anniversary. The 2022 NAME Day project will be a Memory Box that is designed to show off past, present and future special items. NAME is also planning a series of reasonably priced kits (similar to Quick Minis) and/or finished pieces all year long! This page will serve as a landing page to find all these items. Some of these actually links will stay the same but each of those pages may continue to be updated.
---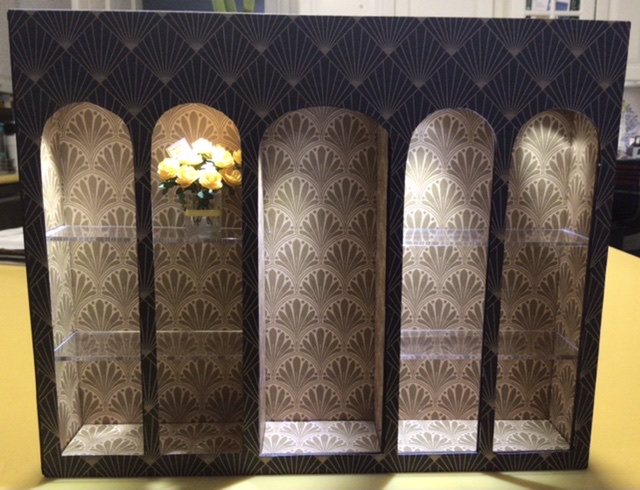 Shown with optional lighting 
NAME's 50th Anniversary will be celebrated at the Indy Convention's Gala on Wednesday, August 31, 2022, at the Marriott East in Indianapolis IN.  We don't want to leave anyone out, so everyone is invited!  You don't have to be registered for the convention to attend.  

ONLY two options are being offered for this event, one which includes a souvenir and one that does not.  If you can't make it to the Golden Anniversary Gala, then your souvenir will be mailed to you following the event.  Please note:  If the souvenir is mailed to you, the monies in excess of souvenir related costs and postage/handling expenses will not be refunded and will be treated as a donation to NAME.  

The sign-up deadline is June 30, 2022.  Gala form: Golden Gala Sign-up form [1]. (If you've registered through the Indy Packet pages, you don't need to reregister.)  

To find the monthly 50th Anniversary Special offerings, click on the links: Present Month's Special  ;  Previous Monthly Specials
---
Source URL: https://miniatures.org/50th
Links
[1] https://www.miniatures.org/sites/new.miniatures.org/files/GoldenGalaSignupForm.pdf
[2] https://create.miniatures.org/50th_Monthly_Special
[3] https://create.miniatures.org/50th_Previous_Monthly_Specials
[4] https://www.miniatures.org/NAMEDay2022
[5] https://www.miniatures.org/sites/new.miniatures.org/files/50thAnniversayKIt_FinishedPieceApplicationForm1_22fill.pdf
[6] https://www.miniatures.org/sites/new.miniatures.org/files/50thAnniversaryKIt_FinishedPieceAppFill_0.pdf
[7] https://www.miniatures.org/sites/new.miniatures.org/files/50thHat.pdf
[8] https://www.miniatures.org/sites/new.miniatures.org/files/50thPinOrderForm.pdf
[9] https://www.miniatures.org/sites/new.miniatures.org/files/Anniversary%20Pin%20Order%20Form%20mail%20only.pdf
[10] https://vimeo.com/662456082/743cb1498d
[11] https://vimeo.com/662457788/ab417fa781
[12] https://www.miniatures.org/taxonomy/term/29